The scar tissue protocol includes a three-step approach:
First, strokes to release the fluids and toxins and relax the surrounding tissues to reduce the pressure on the scar tissue and adhesion and release some of the sensation in the area.
The second step is directed myofascial unwinding strokes that involve slow, constant, steady pressure that only move as the tissue releases. Due to the multi-directional aspect of scar tissue and adhesions, these strokes are applied in any direction that adhesions can be felt. Sometimes the stroke directions may cover as many directions as the lines found in an asterisk.
The third step is applying specific individual fiber strokes. These strokes are very slow and only move with the release of tissue, usually moving along the fibers since the directed myofascial unwinding strokes have already spread the fibers apart.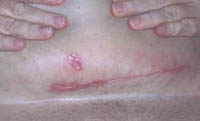 Patience is required with these strokes being careful not to apply too much specific pressure on scar tissue and  cause tearing which results in the reformation of scar tissue. I find it is best to do less rather than more in the first couple of sessions. It's like peeling an onion—we take several layers off in each session until there are no layers blocking the core. Sometimes even with the best techniques there will be a reformation of adhesion in the fascia after we have released it. When this happens we will need to come back to this area weekly to release this tissue before it becomes hardened and more extensive. Usually, a point will be reached where the body will quit forming adhesions.

- Don McCann, MA, LMT, LMHC, founder Structural Energetic Therapy
Radiation Scarring
The scarring processes after radiation can continue as long as six months after the last radiation treatment. Massage of the affected area should not begin until at least six weeks after the last radiation treatment and when no scabs are noticeable. 
Radiated tissues are delicate and the skin can break easily. Take extreme care when massaging this area. Never massage these tissues if this causes pain or increased redness of the tissues. Perform only brief massage sessions at first. As the tissues continue to heal, gradually increase the length of the massage.
References:
[1] Living Well with Lymphedema by A. Ehrlich, A. Vingé-Harrewijn PT, CLT, and E. McMahon PhD. Lymph Notes 2005, pages 159-160.
© LymphNotes.com 2006. This information does not replace the advice of a qualified health care professional.